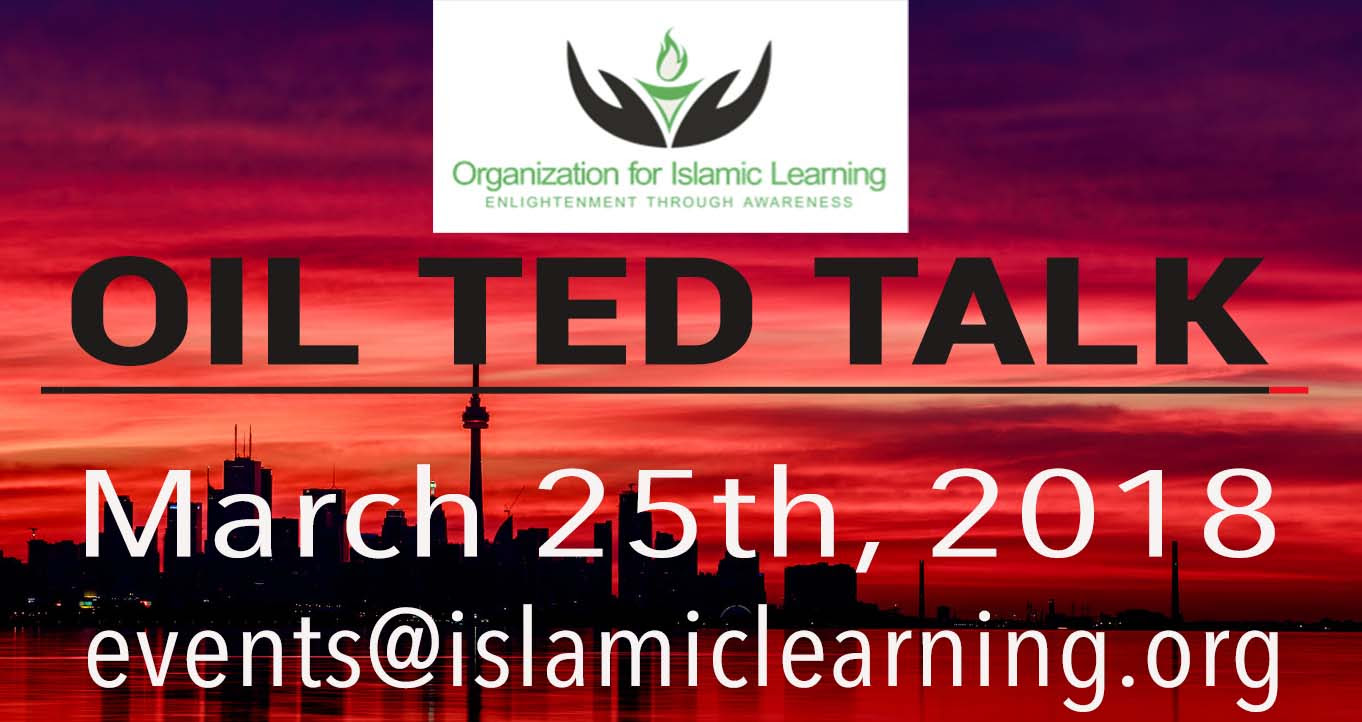 OIL is excited to host the second OIL 

TED

 

TALK

 
---
Stage has been set, topics have been finalized,
speakers have been prepped.
Second OIL TED TALK  is ready to go!
Date:
March 25th, 2018
Time:
3:00pm
Location:
MARC
Jaffari Community Centre, Door #4
9000 Bathurst Street, Thornhill, Ontario
1.  Designing your career to take advantage of the benefits and opportunities from current technology trends impacting education, work, health and retirement by Ali Nawab.
How: Transitioning to a practical form of entrepreneurship taught from lessons learned from the past journey from startups to large organizations and back.
Benefits: Making cognitive decisions in selecting a lifestyle.
Bio: An MBA and Computer Scientist by training, Ali Nawab is a management consultant turned entrepreneur. He started Kiwi.ai in 2013, and has extensive experience in both startups and large corporations. He writes about technology and mentors aspiring entrepreneurs through the Founders Institute,Techstars and NEST I/O.
---
2. Achieving a Contented Soul by Atiya Ahsan.
How: From the teaching of the faith, using intellect with humility
Benefits: Inner peace, self confidence and joy in service to others.
Bio: Atiya Ahsan is member of the OIL board and is engaged in interfaith dialogue. Her profession is in  the financial and insurance field for the past 40 years.
---
3.  Are we including Muslim children with Disabilities in our community? by Sukaina Dada
How: Create an inclusive and accessible environment for children with disabilities and their families. Raise awareness, educate leaders and ensure change.
Benefits: Bringing sense of community, fostering relationships, understanding family dynamics, leveraging skills sets, and implement a support system.
Bio: Sukaina Dada is a founding member of SMILE which is a for-purpose organization on a mission to provide support and develop awareness of the limitations faced by children living with disabilities. She is also pursuing PhD in Critical Disability Studies at York University.
---
4. Prophet Muhammad in the Gospel of Barnabas by Nusrat Jaffer
How: Highlighting the common grounds between faiths
Benefits: For those who are involved in the education system to be inspired by the possibility of Madaris and Schools, Housas and Universities merging and becoming one integrated institution of learning.
Bio: Nusrat Jaffer holds a Magister Degree in Social Sciences and Education from Karlova University and a Master's Degree in Education from the University of Toronto. Active in the field of education, he was a founding member of Madaris and Islamic School where he has served as principal. He is currently working on a new theory that attempts at 'overcoming the divide between Natural Sciences and Social Sciences (religion)' using an innovative research methodology. In the past  he has also taught French in the Toronto District School Board.
---
Please come and join us to meet new people and learn at the same time.